How to elect Paperless: 
1. Please visit www.workforcenow.adp.com and log in to your account. 
2. View the dropdown titled Myself and select Pay & Tax Statements under Pay. 

3. Click Go Paperless.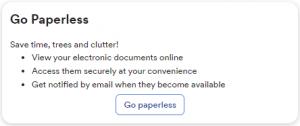 4. This will open an additional window with several options. To opt into paperless, please select the appropriate toggle. We recommend paperless on all items to get your documents faster but you can pick and choose which items you want paperless.